Sustainability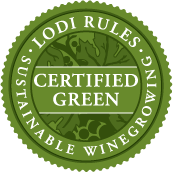 Our family has sustained our relationship to the land for five generations by valuing sustainability. GEN5 is certified green by Lodi Rules. We implement the following practices:
Renewable Energy
Taking advantage of the sunny San Joaquin Valley, we have installed photovoltaic solar systems at our viticulture headquarters, several agricultural water pumps and our winery. At 250 Kw, our winery system is the most robust and features new bi‐facial solar panels over our crushpad.
Water Management
In the vineyard, we constantly monitor soil moisture with a Neutron Probe and regulate water usage through Low Volume Drip Irrigation. These two techniques allow us to manage when and where to irrigate and help maintain our most precious resource. At the winery, we are continually reviewing our water usage to ensure that we use the minimum amount needed by the winemaking process.
Habitat Conservation
We recognise that when the environment is healthy and stable, so are our vineyards. The presence of wildlife is encouraged in the vineyards by the introduction and preservation of native grasses and trees and the placement of nesting boxes for owls, birds and bats.
Riparian Vegetation
A riparian area is the portion of a watershed which borders the banks of rivers, streams and creeks. We understand the watershed's role in preventing sediments and nutrients from entering waterways. By restoring these areas and keeping them healthy we reduce erosion, maintain soil balance and provide wildlife habitat.
Crop Protection
When we must spray, we utilize custom‐built electrostatic sprayers that cover four rows at once. This ensures that every ounce of substance we spray is applied to the vines and it decreases the number of passes in vineyard rows – keeping both human and environmental impact to a minimum.
Soil Balance
As the foundation of the farm, soil must have a balance of water, nutrients and air. Balanced soil allows vines to better cope with soil pests, diseases and other stresses. To ensure balanced soil we plant native California grasses as cover crop among the vines and utilize compost and fertilizer.
Vineyard Establishment
In establishing a new vineyard we protect vernal pools, oak trees, wet swales and endangered species. In this way, not only are we working with the environment, but also maximizing the production and long‐term sustainability of the land.